NANOKIT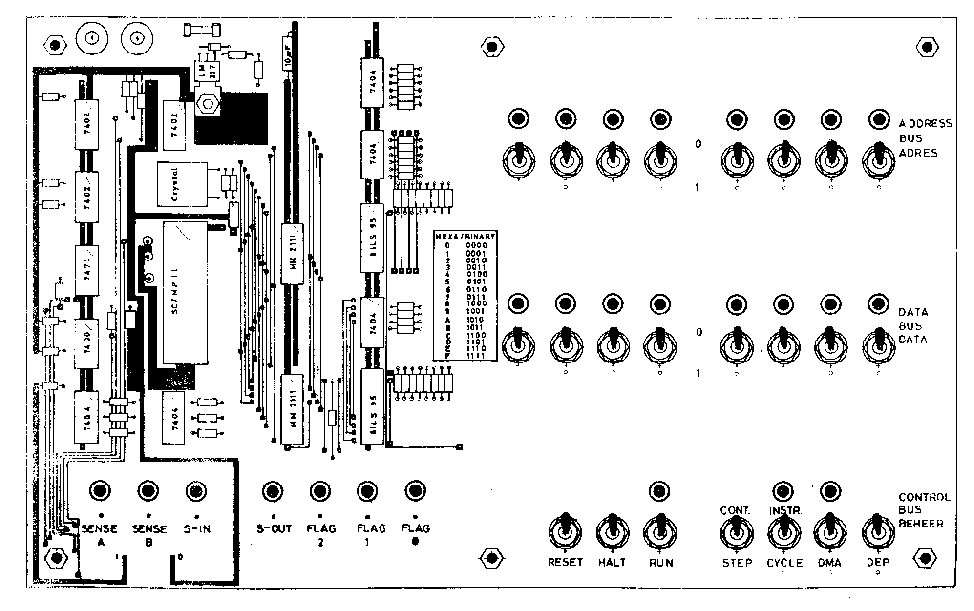 The NANOKIT (Or NANO-KIT) is a National SC/MP II based single board computer with 256 bytes of RAM. You have eight switches to select the memory address and eight switches for the data which you then deposit (DMA!) using a momentary switch. Then you give the processor control and off it goes.
Unsurprisingly, the NANOKIT came as a kit, produced by a company (or maybe just some guys in a garage) calling themselves "Microsystems". Since the manual was printed in Cape Town, that's probably where they were based. And that explains why you've never heard of it. :-)
I bought the NANOKIT secondhand and prebuilt. Well, my parents bought it for me. It came with a set of ROMs piggybacked onto (well, under) the RAM chips, that contained a program to play "Die Stem" (The old South African Anthem) through one of the output pins.
The manual contains quite a few errors, and looking back I can see why I had such a hard time wrapping my brain around this stuff. OK, the fact that I was twelve at the time might have had something to do with it.
If you have more info, please contact me. If you're the author of the manual, I promise not to hit you any harder than necessary :-)
2002-09-23: Received email from Stephen Davies, who says that he also has one, which he got in 1977 or so. Stephen says he knew Andre Wagner who knew the designer.
| | |
| --- | --- |
| | I took my NANOKIT apart, I needed the switches for another project (yea, I was young). I'm planning to put it back together, RSN. |
---